International Conference, 23-26 February 2015
 Advanced Numerical Algorithms for Strongly Correlated Quantum Systems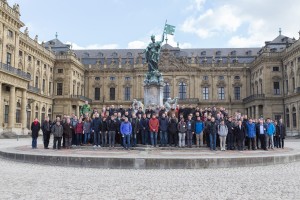 Scope of the Conference
The scope of the conference reflects the interdisciplinary progress in computer simulations of strongly correlated quantum matter: Concepts in quantum information have lead to the development of powerful novel algorithms for condensed-matter systems. The discovery of graphene and topological insulators has spurred a resurgence in the application of the Dirac equation in solid-state physics, revitalizing an area of common interest in the condensed matter and lattice-gauge-theory communities. Finally, advances in high-performance computing are reshaping the way computers will be used for research in the future. The aim of the conference is to bring together researchers from these disparate fields in order to foster synergies, to stimulate further progress, and to identify promising directions for future research.
Application and Registration

The application deadline was January 26th, 2015. The registration fee of EUR 100 includes participation in the social program (conference dinner and a guided tour of the Würzburg Residenz).
Registration
The conference will be held in the Würzburg Residenz in the Tuscany Hall.  Here is a Map of the locations.
Conference Program

Below, you can find the current version of the conference program. The conference booklet can be downloaded below. We were able to accommodate 15 contributed talks. All other abstracts will be presented in two poster sessions (Monday and Tuesday). Before your poster session, you will have the possibility to present your poster in a one-minute talk.
Update: We have selected session chairs from the list of participants. Please check the booklet for your name, and contact us if you cannot chair the assigned session or have any questions.
Update: In order to organize the one-minute poster talks in an efficient way, we kindly ask you to send any slides you want to use in PDF format to this address.
Update: You are free to organize your lunch break as you wish.  There is a  Mensa  (Am Studentenhaus 1) within 10 minutes walking distance  and many restaurants for example in the Neubaustr.  and Sanderstr.
Update:  Here is some information for the social program
Download booklet
Download program
The time slots for talks are as follows: 40 min for overview talks, 30 min for invited/FOR 1807 talks, 20 min for contributed talks. Please leave time for questions.
The recommended poster format is A0 landscape, although A0 portrait (or any smaller format) will also fit the poster boards.
Slides
Photos